Volunteering @ AACG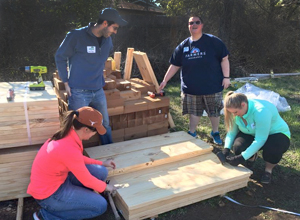 Interested in volunteering at Adelphi Acre Community Garden?
Then look no further – we happily welcome outside volunteers whether individuals or groups!
The garden hosts monthly workdays every second Saturday where members and volunteers get together to weed, mulch, and maintain the gardens common areas. There may also be special projects taking place in the compost area, butterfly garden, orchard, or teaching garden, that volunteers may also be able to participate in. Afterwards, we frequently, when possible, gather around the harvest tables for a simple potluck nibble and chat.
No previous gardening experience is necessary. Please come prepared in work clothes, with covered shoes, a hat, sunscreen, drinking water, and gardening gloves (if you have these). Before signing up for any volunteer opportunities, you must fill out the SFC Liability Release and the COA Liability Release. These waivers are to be completed once a year, by each individual prior to showing up to their first scheduled volunteer project. We recommend that you maintain an active email account/address in case there are any last-minute changes.
Here's how to sign up in three easy steps:
1) Click on the SignUp link to see available volunteer opportunities – Volunteer @ AACG
2) Review the options listed and choose the spot(s) you'd like. (You will NOT need to register an account on SignUp.com)
3) Sign up! It is free and easy!
Note: We're using SignUp.com to organize our volunteer activities. SignUp.com does not share your email address with anyone.
Large Group or special skills? 
In addition to the volunteer opportunities mentioned above, AACG always has more opportunities for large groups (over 10 people), including corporate groups and companies that are interested in volunteering with us.  If you have a large group, please contact Sandra Underwood directly at volunteer@gardener.com and she will guide you through the process of registering for a project that's right for your group. In addition to "in garden" activities, there may, on occasion, also be non-gardening volunteer opportunities available. We are always on the lookout for help with administrative tasks, event planning, and website upkeep.
Thank you for continuing to support our mission and volunteering with us!